Antimalware antivirus for Magento
Subscribe today and get started right away, we will process your request in less than 2 hours and begin protecting your web sites against attacks and malware.
Get worry-free complete website cleanup and protection specially for Magento
If you have no enough skills or time to use automatic website security tools. If there's ever an issue our auto removal tools can't fix, we will repair it manually. With no additional fees. When incurable malware is detected and a cleanup request has been initiated by you, our security experts will start the remediation process within 24 hours — depending on the plan. We keep you informed of progress so you'll know when your site is clean.
Our service consists on helping website owners to keep their websites clean from malware, as well as to protect their websites from online threats XSS attacks, and SQL injections. It also mitigates DoS attacks and protects their sites from suspicious activity.
We have a number of security tools at our disposal, develop by our
Virus Defense Team
including website antivirus, a website firewall, a file manager editor, malicious code highlighting, and more. We do not have a CDN and do not filter web traffic through our servers.
Above all remember that this is a managed service, as in -we do the job for you- service.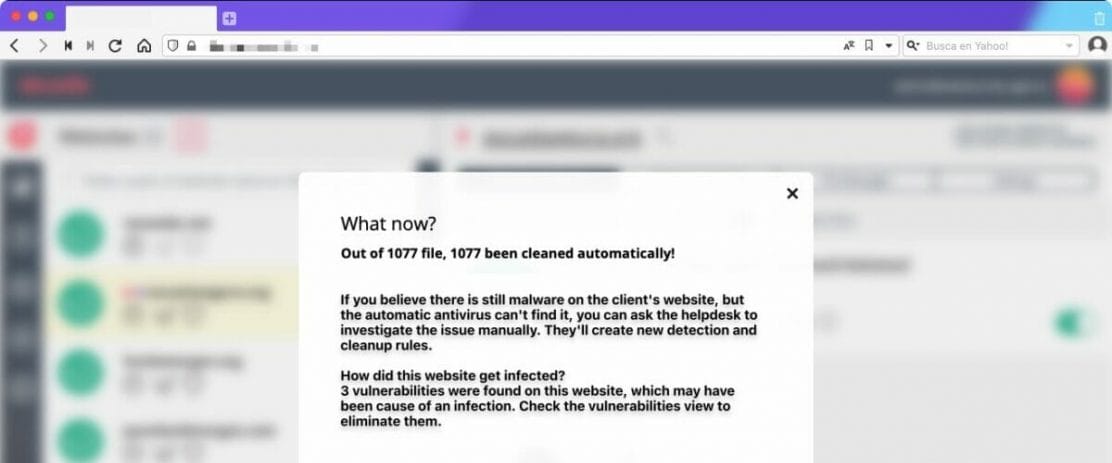 Website firewall and antivirus protection.
Vulnerabilities scanning and removal. Removal of viruses from customers' sites, including removal of viruses from already compromised sites.
Investigation of security issues
We detect, investigate and eliminate threats. Periodical site scans for viruses and vulnerabilities; depending on the site, web scan daily, weekly or monthly.
We remove your websites from blacklists by having you site clean and submitting it to removal forms and search engines.
Our firewall automatically synchronizes with your websites and protects you from hackers and malware attacks, injections and more.
Vulnerability patching for your websites, as well as plugins and CMS updates. We scan all major CMS based sites.
What technologies do we cover?
The website firewall can be used on websites using the following CMSs: Joomla, WordPress, DLE, Drupal 6.x/7.x/8.x/9.x, ModX Evolution/Revolution, 1C Bitrix, Yii framework 2.x, OpenCart, CS.cart, NetCat, PrestaShop, HostCms, UMI.CMS, Amiro.CMS, Magento, CMS Made Simple, XenForo forum, CodeIgniter, PhpBB, Webasyst, Stressweb, DiafanCMS, Vtiger CRM, Koobi CMS, Simpla, VipBox(Engio), InstantCMS, Symfony, Laravel Framework, Zend Framework, Laminas Project, CakePHP, Fat-Free Famework, Phalcon.